As you all know, I am a bento fool. You may also have noticed that I enjoy le organization. Oh, yes. Now, what does one do with all of that stuff?

Bento accessories can really start to pile up, so you have to find a place for everything. At first, my bento things were put away in a cupboard alongside my Tupperware containers, stacked nice and neatly on top of each other, behind a dark and lonely cabinet door. It wasn't a great spot, if you ask me. They were sadly calling, "Let us out! We're much cuter than these guys!" So, I rescued a small antique bookshelf (that wasn't being put to very good use) out of my office and put it against an empty wall in my kitchen. Most kitchens don't have as much useless space as mine does, which is because mine is very poorly laid out, IMHO. I need more cabinet space, not wall space! Still, it's all I've got, so I'll use it! Against the wall with you, shelf!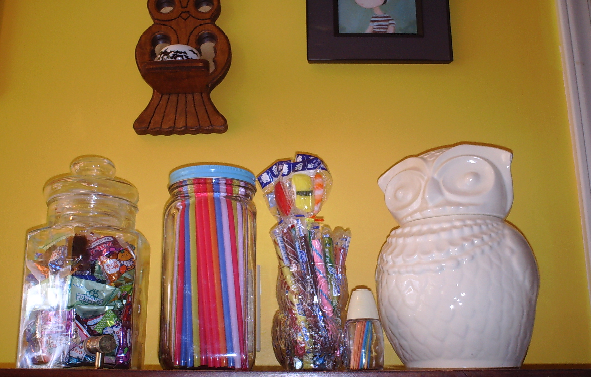 On the top of the cabinet are things that I sometimes add to my lunch at the very end (and other than the straws, things I probably shouldn't eat!): a jar with small, individually-wrapped Japanese candies, a glass container full of brightly coloured straws (note: made out of recycled plastic, oooh), an owl-shaped glass full of old-fashioned stick candy and some sushi suckers, and finally the cutest cookie jar there ever was, filled with little individually-wrapped Japanese cookies and small snacks.



On the top shelf are two red metal bins that remind me of my junior high locker. Since they are metal, my magnet containers will stick to them instead of having to find a place to screw the metal strip that came with them. Inside the little magnet containers are small sauce bottles, used either for soy sauce or vinegar. Inside the bin to the left are chopsticks, utensil cases, and all of my utensils. I have quite a few, since I like to match everything together. Note: there is even a lightsaber spoon for when I have a Star Wars lunch. Ooh. Ahh.

On the red bin to the right, there are molds, molds, everywhere! Egg molds, onigiri molds, silicone molds... You know, there just aren't enough shapes to put your food in. And yes, it's totally natural for a boiled egg to be shaped like a car. Totally.

In the center of the two metal bins I stacked two plastic containers. In the top one I have larger sauce bottles (for ketchup, salad dressing, etc), furikake shakers, and the dropper things you have to use to fill your tiny sauce bottles. In the bottom one I have paper cupcake liners, plastic baran (animal shaped and regular grass), aluminum hearts and stars, and small plastic Japanese food cups.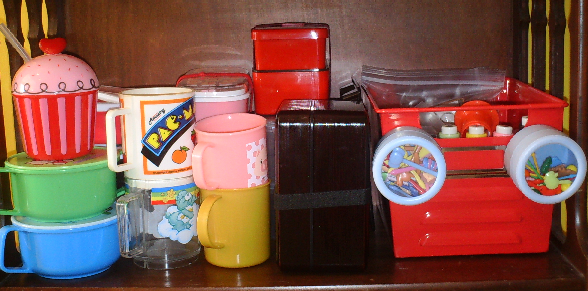 On the middle shelf I have all of my bento boxes and mug cups. Next to these I have my third red metal bin with magnet containers. In the magnet containers are the cutest picks you've ever seen! So, so cute. Inside the bin are all of my metal, small cookie cutters for cheeses and fruit/veg, mostly. Also all of my nori punches are in here, and there are a lot. There are also some wiener shapers, though those don't get used too often.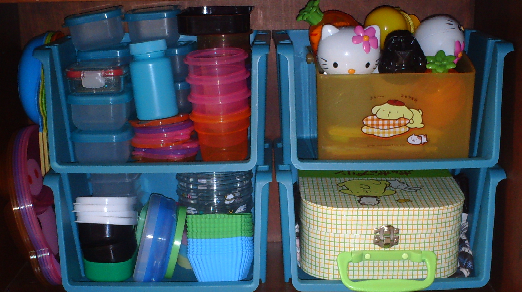 Finally the bottom shelf has four stackable open front bins. In the top left and bottom left bins are small lidded containers, mostly for messy foods that may slop around in transport. On the right side, the bottom houses all of my kinchaku inside a little box, and the top bin is where I keep all of my oshibori. I have two of the "real" thing: a bear one and a Shinkansen one, but for the most part I like baby washcloths (they're small, so soft, and come in cute colours!) and Easter eggs. The "eggs" come in so many shapes these days, so it's no problem to find something cute. I currently have carrots, Hello Kitty, and Darth Vader.

So, that's it! It's how I keep it all organized.

I am actually entering this entry into a contest at Lunch in a Box. Check it out!